seasonal
Welcome to Glory Carpet Cleaning Service's
Seasonal Offers Page
---
Spring OR  Fall 
---
Welcome Spring 2019! Your home gets much too stuffy and dirty over the Winter.
Let us come and EXTRACT all those unwanted ingredients and restore your home to a healthy clean!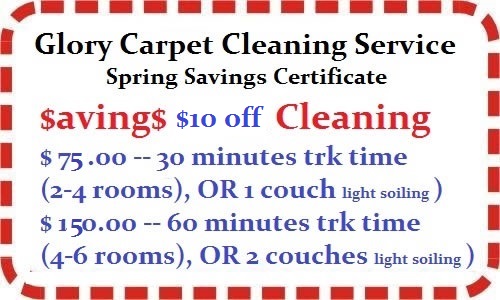 This coupon entitles you to receive $10 cash off our ticket (Hourly rate calculates the lowest we've charged for years: currently $150/hour). Applies only to for March-April Cleaning appointments.
This offer expires April 30, 2019  Transportation Charges may apply for any work outside Hartford or Western half of Tolland counties.
Most customers select our 30 minutes option and order 2 or 3 rooms of carpet or upholstery cleaning for their home to maintain it. This is the smart and affordable way to maintain your home carpets. The cost per room can be $20 or even less. And we'll clean any room if 0.1 truck hours is enough time to properly clean it. So for $15 (using this coupon/ or just mention this offer) your room will clean and you will only pay $15 + excludes CT's 6.35% Service Tax for THAT room, in any home within Hartford or the Western half of Tolland county, as above!
Now that won't happen (can't clean a dirty room's carpets in 6 minutes!) if you have not been maintaining it using a comparable spot cleaning practice since a prior cleaning as is described on our "Cleaning Primer" as below:  ;)
You must mention this Seasonal Offer to get your discount, please, and no other offers or discounts we mention can apply for this discount on a single order.
Check our menu for more and give us a call. AND REMEMBER, if you leave us a message our voicemail is faithfully checked in our home office day and night. WE WILL return it promptly!
Get back to our Home page– click here.