We Love to Clean - Let Us Show You! 
Our Primary Services
We use Hot Water Extraction (HWE) for most cleaning requests. On commercial accounts, we maintain carpets with a combination of HWE and Encapsulation Bonnet Carpet Cleaning.
Most carpets or upholstery are cleaned with hot water extraction simply because it appears to be the best method! When carpets are dampened with an appropriate and most needful amount of moisture, evaporation, and wicking efficiently bring the soiling up and we are able to extract it.
We highly recommend, but certainly do not pressure sell this service because it does add to the carpet cleaning cost. Some clients truly understand it's value, and demand that we automatically apply it to both carpet and upholstery. It protects in 3 revolutionary ways: It provides a plastic-type of sheeting that seals around the fiber or fabric to
Increase the surface tension on the material – this is a feature that makes new soils wet or dry from easily attaching to the material, and makes the vacuuming of them much easier especially if done regularly.
Fill in dye-sites not colored fully in the dyeing process, and thus prevents new colors from changing the dye structure of the carpet or furniture coth material
Fill in new scratching occurring since past cleanings, and thereby reduces the "shading appearance caused by traffic lanes travel. This is especially noticeable on extremely light colored fabric or fibers that still look dark after professional cleaning but yet show no further soiling to be removed (actual carpet is damaged by the wear of the tufts).
Fabric is best applied immediately after carpets are cleaned. We keep the product on our truck and you can choose to apply it even during the final stages of the cleaning process. There are no harmful or unsafe by-products with this revolutionary product and it has been in use over 20 years in the carpet cleaning industry. Ask us for a demonstration. You may view a video at this link. We recommend and use Maxim Fabric Protector. Look for the type you want further info and download the brochure. We presently only stock the carpet_protector product below now on our truck:
Learn more about Hot Water Extraction What to expect when we come
How Does Upholstery Cleaning Differ From Carpets?
Furniture is cleaned with the same basic principles and procedures, except less pressure, power and temperature must be utilized. Textiles in upholstery are much more complex and more must be known to safely clean them.
Upholstery requires more time since each section of work must be done systematically by hand. Upholstery is usually harder on the equipment since moisture must be more carefully controlled, and more suction wears the parts more. While truck-mounted equipment is usable, it is considered "overkill," and portables work with excellence. Much less water, of course, is used.
Furniture cleaning is less often needed than carpet cleaning – about once every 2 to 4 years.
Commercial Carpet must be both maintained and restored to best serve your investment and the carpet's useful life. Prudent stewardship! The company willing to implement a system which both maintains and restores its carpet floor coverings will enjoy these benefits:
A clean environment – the result of reduction of soils, cleaning residues, and air pollutants
A healthy environment – the result of improved employee and customer health
A productive environment – the result of employees not worrying over health issues
A pleasant environment – the result of employees and customers who enjoy fresh surroundings to work and do business in
A profitable environment – the result of:

1) extended carpet replacement cycles
2) fulfilled and loyal employees working hard without distraction
3) "retained" and "referring" customers who enjoy the experience of doing business in a clean, healthy, productive, and pleasant office
Today's commercial carpeting is made up largely of a fiber that is economical to install, yet is susceptible to matting, burning distortion, and tenacious soil-retention and re-soiling, especially in oil-prone service areas. A business owner needs knowledgeable carpet specialists to address such issues, and demonstrate competent resolution of these problems.
Our company works hard to provide the solutions needed for today's commercial carpeting problems. Our commercial carpet cleaning service has and can involve any or all of the following service options:
Analysis of floor usage and present floor covering
Specification of recommended floor coverings for each use area
Technical recommendation for any needed replacement areas
Implementation of "the system" of floor maintenance required
Evaluation of service program with prompt communication and response access
Since our inception in 1987, we have provided vinyl floor maintenance, including floor stripping & use of premium floor finishes.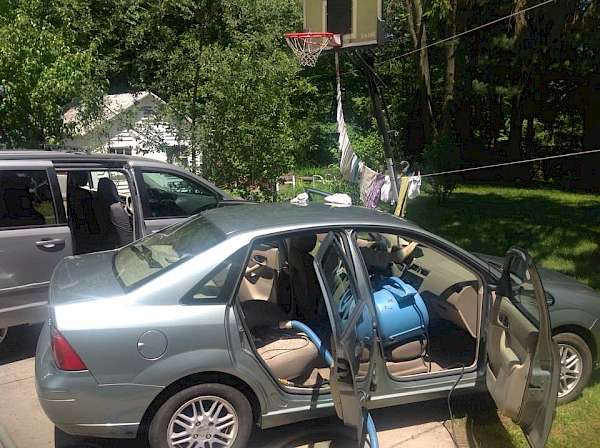 We provide automobile cleaning services, including:
Vacuuming
Thorough Hot Water Extraction washing of vehicle floors
Vehicle seat cleaning
Window cleaning
Our residential cleaning for apartments specializes in cleaning kitchens, bathrooms and doing dusting/vacuum detailing.
We also offer window cleaning in the spring and fall.