Answering the Question: Does HWE Really "Drive Dirt Deeper?"
Some have advertised that 'Steam' (HWE) Cleaning drives dirt deeper into the backing and pad of carpet. It is a half-truth, because after driving and loosening the soil the principles of evaporation and wicking take place. Simply speaking this means that the loosened soils migrate back to the surface of the carpet and can then be extracted with proper equipment and trained personnel.
Our Power Water Extraction Cleaning Process
When you ask us to "steam" clean for you, here's what you'll get!  
Detailed Pre-vacuuming of carpets and upholstery, with use of a crevice tool as needed
Pre-conditioning by application of cleaning solutions and grooming if necessary
Spot-treatment of serious soiled areas of carpets or upholstery
Powerful Water Extraction using an encapsulation rinsing agent that leaves carpets soft, fresh, and dry normally within 24 hours, and any microscopic soiling surfacing in final drying stages will be trapped by the encapsulation detergent and will remove the first time the carpet is vacuumed after cleaning – Agitation is used when necessary to assist the chemical and vacuum extraction process
Post-spot treatments to remove any spots not responding to the above cleaning process
---
How HWE Cleans Carpets
Figure 1. Soiled Carpet Preconditioned

Grooming (Figure 1) drops the softened soil to the lowest parts of the carpet into the solution applied. The carpet from the surface looks clean immediately after the raking, but must now be extracted.
 

Figure 2. Extraction & Evaporation

Fresh Water with a rinsing agent is now sprayed down and immediately extracted (Figure 2) by a powerful suction. Multiple passes rinse heavier soiled fibers. Dry passes extract solution which was not absorbed by the fibers or picked up after the initial application.
 

Figure 3. Cleaned & Drying

Now the carpets dry using company and customer-assisted procedures (Figure 3). The deepest soils are re-cleaned just before wrap up since they have migrated to the surface since the cleaning began, and will continue to wick up until drying is complete.

 

Figure 4. Residue or soil dries on top if not fully rinsed or cleaned

Should any spots reappear (Figure 4 – usually the result of abused carpet or over-soiling without cleaning), the customer can blot as they appear and the applied blotter will collect any soils not originally extracted. A professional cleaner willingly returns to clean these qualified conditions. Many customers prefer to have protector automatically reapplied each cleaning. We use and recommend Maxim Fabric Protection.
Buckling & Delamination
Others have advertised that 'Steam' (HWE) Cleaning causes buckling and delaminating of the backings of carpets. This is again another half-truth. Some carpets do expand because of the natural or synthetic carpet properties, but the original state of most returns upon complete drying with proper cleaning.
---
Remembering Our Beginnings: This was our original (early to mid 1990's) draft of the above and our Primer: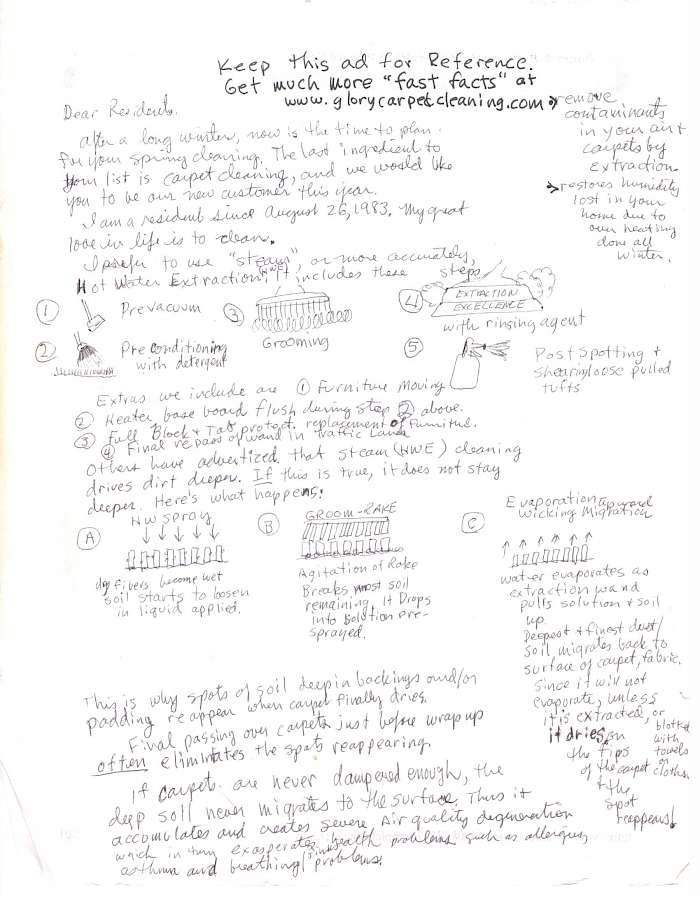 This is the current primer pages 1, 2:
---