Fabric Protection BENEFITS
For THREE* Significant Reasons We recommend only the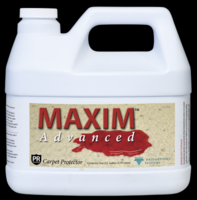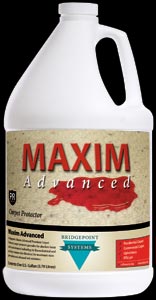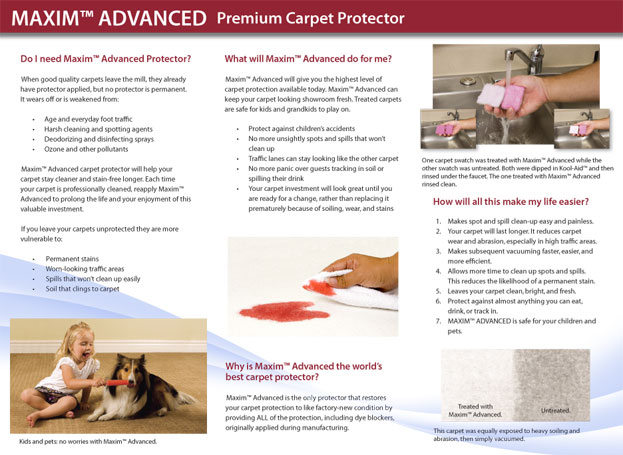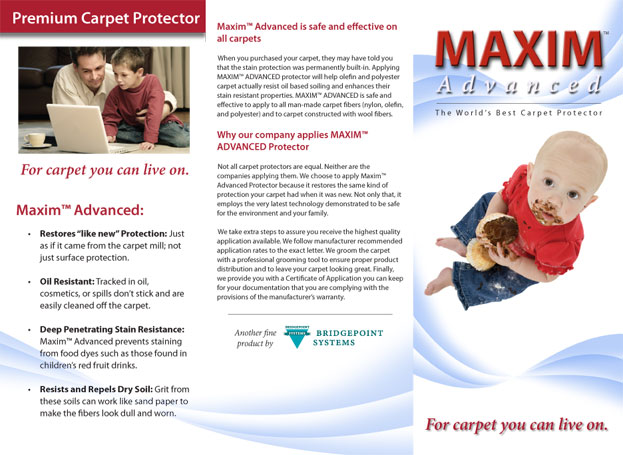 New Maxim™ Advanced-Cutting Edge Protector Technology
Copy from Bridgepoint: Just visit their website for confirmation and ask us for a demonstration, or download a video from this link.
Maxim™ Advanced is a totally new formula that represents the cutting edge of carpet protectors today. It (1)* uses state-of-the-art, environmentally safe fluorochemical technology to protect against damaging dry soils as well as both water-based and oil-based spills. But the real key is how Maxim™ Advanced (2)*coats fibers with a stain barrier to protect them from difficult dye stains "from the inside out".
Traditional protectors rely on a repellency barrier across the top of carpeting to protect carpet fibers. And while such protectors perform well, especially when spills are cleaned up immediately, once a spill penetrates the protective barriers of repellent protectors they immediately bond to the fiber, creating difficult to remove stains.
Because Maxim™ Advanced protects the fiber completely, not just at the top, spills will not bead up and then soak through to create stains. 
… [we are] able to remove tough stains [if protector is in place] easily even when they've been there for months! …
80 percent of consumers were interested or very interested in the benefits of having protector applied after professional carpet cleaning.
—
(3)* Fiber shading (shadows created from scratching of the tufts from wear, and from the soil not removed quickly enough to minimize the shading) are enclosed restoring appearance levels once it's applied.
For these reasons, and 
(4)* Protection enhances the vacuuming process to remove soils easier (the fiber surface tension is higher and the soils cannot attach as easily), and thus more is removed when done effectively and thoroughly as you vacuum the fibers,
WE HIGHLY RECOMMEND THE APPLICATION OF this FABRIC PROTECTION.
---
The cost for this is $0.15 psf.
---
Protecting your carpets and furniture can have extended benefits with our warranty.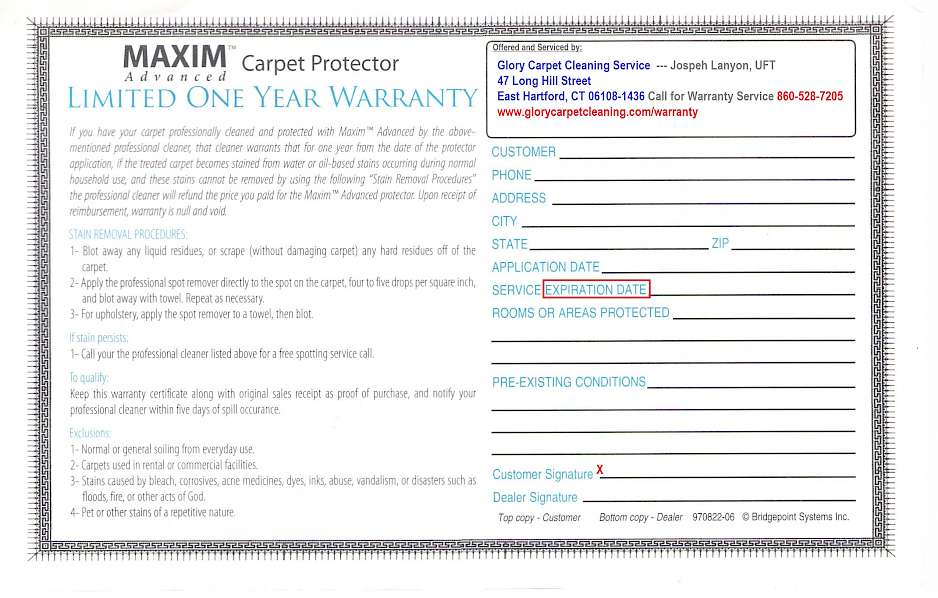 1) Pay $.05/psf above the fabric protection cost.
2) Use the spotting solution we recommend and/or provide.
3) Follow all directions on the form if a spot occurs for 1 year.
4) Call us if the removal is not a success.
5) Get a full refund on the protection charge (only) or we'll come out and professionally clean spot for no charge.