the-longer-version
  A Longer Version of Our History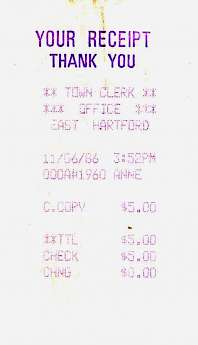 Glory Cleaning Service began in late fall, 1986, as a janitorial service to offices in Hartford County. Pat was single, and doing it part-time then while working for Combustion Engineering as a Sr. Specialist Clerk, a job that began the week of November that year. It was a momentous week for 2 events we'll share more of below.
1983
But first it's important to take you back to August, 1983. C. Patrick Lanyon had moved to Connecticut on August 26, and soon thereafter found employment at Kimberly Hall North Nursing Home. It was then operated by the Cocomo family. Drawing upon experience while in Chattanooga attending seminary buffing floors for a janitorial service company, getting the job was the perfect fit for his first years in Connecticut. He resigned that nursing home job when he became expected to set up for a happy hour serving wine at the home instituted by a new management company taking over the home. Because this was a violation of his sincerely held beliefs, he left quickly before securing replacement work.
Hab. 2:15  "Woe to him who gives drink to his neighbor, Pressing him to your bottle, Even to make him drunk, …"
Pro. 20:1  "Wine is a mocker, Strong drink is a brawler, And whoever is led astray by it is not wise." 
 
He originally came to participate in a follow-up to his June, 1980, month-long "planting" of the Truth Baptist Church on June 29, 1980. You can read much more about this at his ministry website.
It was a struggle for him for several months working in several assorted jobs. This experience convinced him to have more faith in himself and believe that starting a business was something he could do. During this same time he had found a young business Christian in West Hartford who was willing to encourage him in starting a business. He said he would allow Patrick to work for him at half his business cost on an apartment if he could treat him as a sub-contractor, but he must began his own business to do that. With his encouragement, on Thursday, November 6, Patrick went to the Town of East Hartford Clerk's office and applied for a business license, and paid the $5 fee. (See receipt illustrated above.) 
Another Christian also named Patrick at Truth Baptist was a janitor. On November 10th, Patrick Lanyon went to "Patrick's" house asking more questions, and he was again encouraged to go for it! So Patrick was now on his 3rd job in just months, getting more frustrated, and not being able to pay the bills. He looked for significant full time employment knowing a business would initially not support him enough. On Friday he was able to get an interview for Monday, November 17 for this new position, which was accepted to begin Wednesday November 19. It was, through an employment agency, with Combustion Engineering in Windsor .
Full of thanksgiving, Patrick went to the midweek services being held in the home of the Pastor and during the praise testimony and prayer requests time announced that he was to begin "Glory Cleaning Service." It was named after a Bible verse that states "Whether therefore ye eat or drink, or whatsoever ye do, do all to the GLORY of God." (1 Cor. 10:31).
His second day of work was on Thursday, November 20, at a new clerk type job in Windsor for the power supply company. As the quitting time that day drew near, a misty sleet began falling on the Windsor streets. As he drove down Broad Street heading toward home in a Bobcat compact car, he was spared from serious injury when a Flower Delivery van hydroplaned on the icy road directly in front of Patrick. After being taken to the hospital, and receiving 24 stitches around the right eye, he had no other serious injuries enough to remain hospitalized.
Once at home and sharing his predicament with the pastor, and realizing the delivernce experienced, he realized there was no reason not to return to work because although his vehicle was totaled in the accident A BROTHER IN CHURCH WORKED IN THE SAME COMPANY AND LIVED ONLY 5 OR 6 BLOCKS AWAY. Though quite humiliating to Patrick, he returned to his 3rd day of work at Combustion with bandage-less stitches on his face serving drawings to dozens of drafting-engineers.. 
He took it as an encouraging sign his life was under divine protection. 
Several months later after developing an advertising sheet, he solicited it to several Windsor offices and secured 2 or 3 to begin evening weekly work doing office cleaning while doing his daytime job. In a time when the company was experiencing a 'hiring freeze' in the spring of 1987, Patrick was invited to become a full Combustion engineering employee. This was providential because while it's pay was low, it did include the generous full tiered benefits of insurance offered by the corporate giant. 
His evenings each week were spent as a single man doing office cleaning and making a generous income. He recalls an article during those "Ronald Reagan Years" of a Stamford gasoline station sales company advertizing in Indiana for workers to pump gas with apartment supplied for a year's contract of service. Closers at McDonalds were being offered $12/hr at the same time.
Turks & Caicos Island News Makes Impact
At this time Patrick had been corresponding in his 5th year now with a single young missionary woman serving as a Christian Teacher. She had been serving as a woman ministering to 4-5 year-olds in a nursery school begun in a Baptist Church in Providenciales. But her apartment was going to be needed for a youth Minister who was coming. The change was a provocation for Patrick to invite her to visit him in Connecticut in this transition. He realized the letter sounded like a proposal so he had to make preparations to leave his business for a marriage and honeymoon if such an event was actually coming. Surprisingly it was all favorable for a late summer wedding, and provisions for employees were finalized by early summer.
He was able to find a man to cover all janitorial work and gained permission to leave Combustion for the Wedding set for August 13 in Buscyrus, OH, near his fiance's home town 30 minutes away.
Full time Late Fall – "8 Accounts in 8 Weeks"
After returning from Colorado and Ohio, he saw signs that he needed to leave his full time job and launch himself fulltime, so by faith about October 5, 1987 he gave his 2 week notice, even though he felt a sense of betrayal since CE had given him a full benefits job in a hardening economy for them. Surprisingly though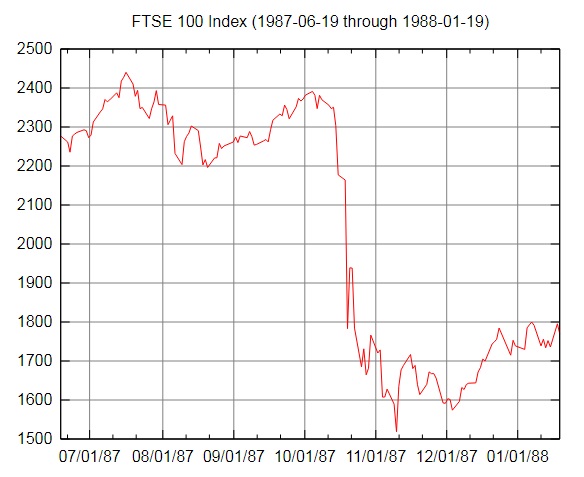 they were congratulatory sensing pride that he was bettering himself by going entreprenaural. 
On Monday October 19, we began full time operations in East Hartford, and we remember it well because of another notable event happening on that day: A technology-generated crash of the stock market sent strong negative signals to business, but Patrick was still quite ignorant of such news. He was encouraged, though, because he spent the next 8 weeks canvassing for office cleaning with great success in spite of the bad business news: On the 8th week he found his 8th account which was very close to his house and as young married man now, it required 4 hours of work five nights a week, and he had over 40 hours of labor to call his business truly "full time!"
He received a great variety of commercial types of tangent cleaning: janitorial offices, window, carpets residential house, construction clean-ups and vinyl floor stripping and refinishing such as was especially useful not only for his office accounts, but also salon florr maintenance. The great variety in cleaning was exhilirating to him and he became very knowledgeable in various cleaning projects.
But after some extensive experiences in the field of carpet cleaning, of all places, it was a church job that reproved his limited knowledge of the finer aspects of the art. An evangelist, hearing of his skilfullness asked him to clean "stain resistant" carpets recently installed in his RV. Completely ignorant of this his offer was declined. A verse of the Bible was glaring him in the face squarely: 
Pro 19:27  Cease listening to instruction, my son, And you will stray from the words of knowledge.
CARPET CLEANING EXPANSION – 1991
Learning, he realized, is an UNENDING avocation in the midst of one's vocation! His search landed him in a school in CT in early 1991 becoming educated for 2 days in Carpet Cleaning through a vendor of Carpet Cleaning equipment patronizing an organization called IICUC. The International Institute of Carpet and Upholstery Certification was later changed to the IICRC. International Institute of Carpet and Restoration Certification also calls itself the Clean Trust as an improved business name without dropping their extremely well recognized IICRC designation. [If the link breaks, we  thought the interview valuable enough to copy it locally here. The organization, itself, is quite a story of developing professionalism worth the study!
In 1991- 1992 Patrick began attending every school he could, and his year of "journelyman" preparation passed in no time. By about 1993 he had gained enough credits to be classified "Master Textile Cleaner," except for personal recommendations and the 3 full year experience requirement and didn't even know he could get that category until after he had chosen to invest in a truck mounted cleaning system in 1994. Since then we have found that cleaning using recognized procedures takes guesswork out of the vocation and makes you truly expert in your work.
All the education came not only by IICRC schools in Vendor locations, it was also in conventions and Associations. After attending some of these Patrick realized most businesses expand and fit their business with better equipment to get the job done quicker and much more efficiently. It was then we met "the Butler System Corporation." We were providentially able to find a local dealer with a used Chevrolet van manufactured in 1992, and brought it up to Ludlow, MA to get their mount installed in about 3 days:
1994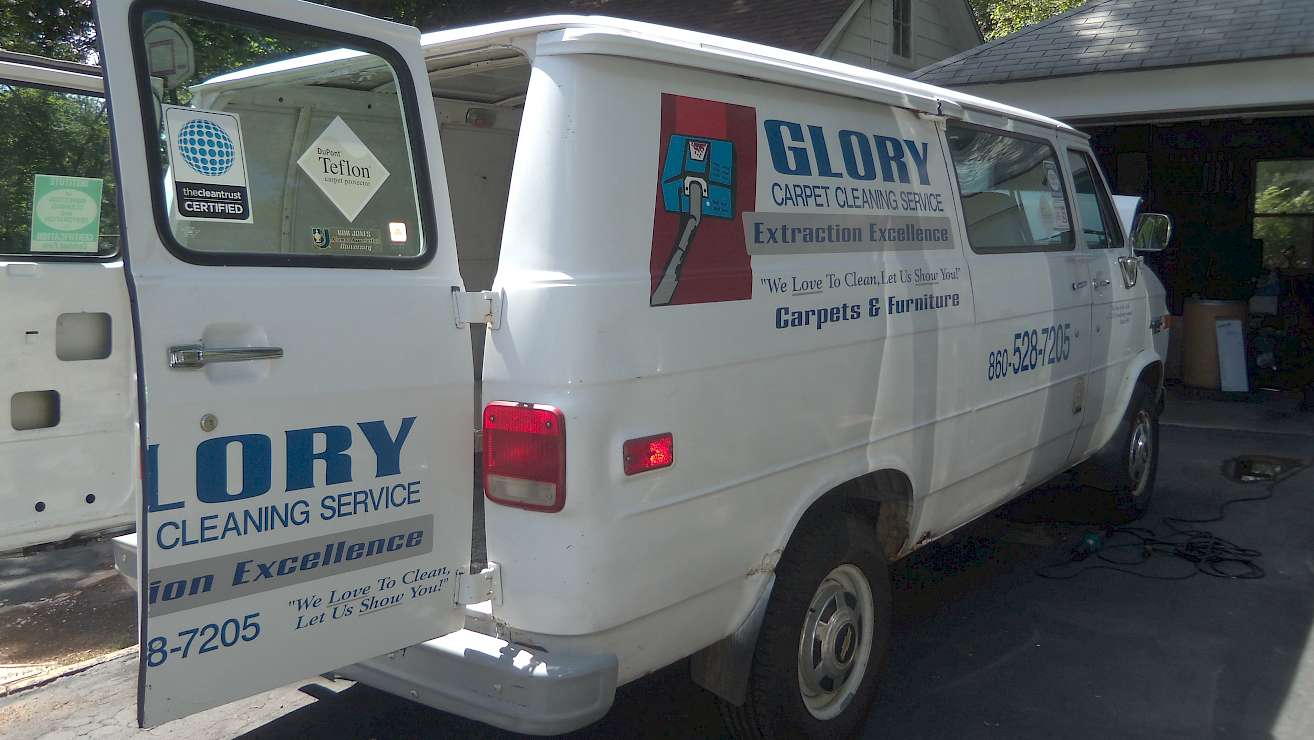 In March, 1994 we received our new mount. They chose to advertise the business name of GLORY in a big way, but more than anything, we wished to show off our "window in the wand" brush powered head. This was an actual part of a portable cleaning extractor manufactured by Windsor industries. The portable truly gave them recognition fo rthe thorough way that it cleaned carpet. So fitting the 100psi wand for the new 1000 psi truck system was important, and we found, an easy adaptation!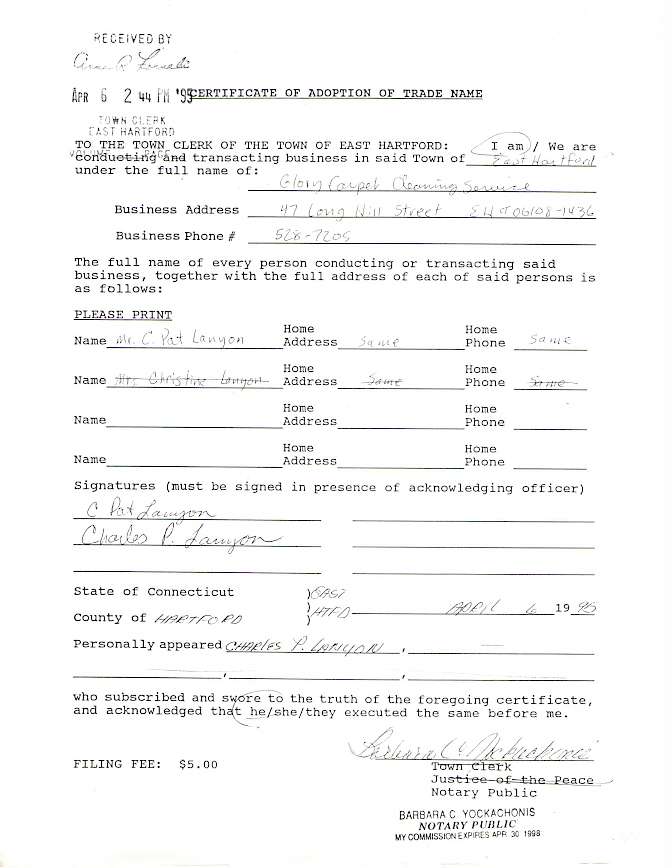 It greatly enhanced our ability to clean offices & living spaces in the Greater Hartford area. It was recogized as integral to the company for most of our CT business life until 2012. After 18 years of strong dependable service to us, our first truck was retired.
In 1995 We registered our "Trade Name" for the small fee of $5 by the Clerk of  the Town of East Hartford.
August 2012 Brings Increases the Equipment Quality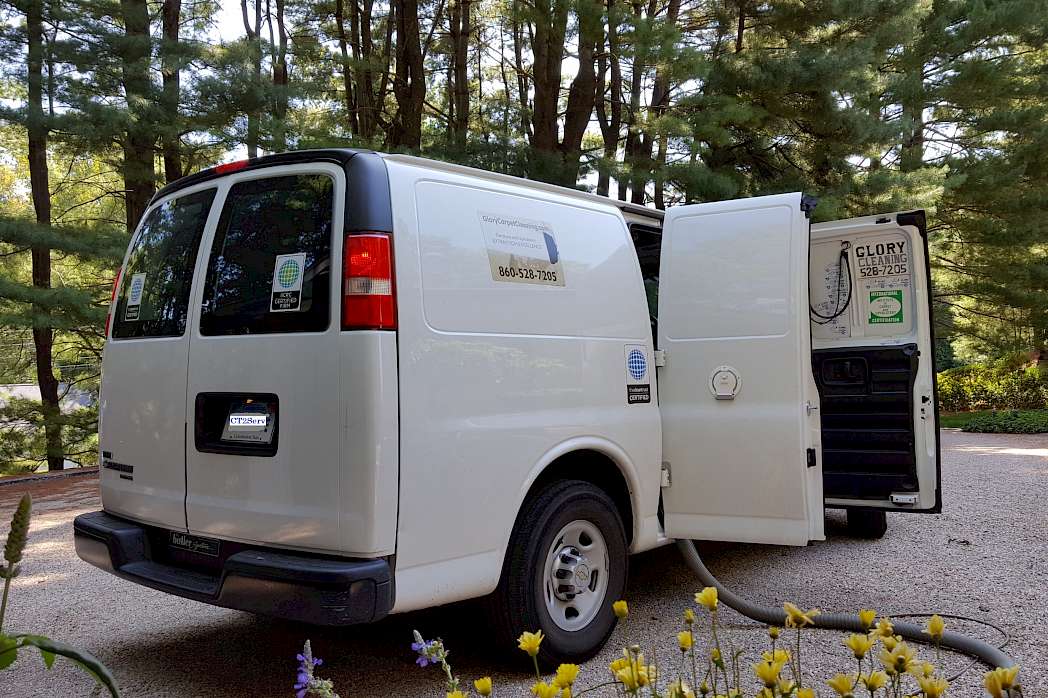 Over the years, we have continually upgraded our equipment to clean carpets and upholstery using the standards produced by the IICRC. Our latest truck is also from the Butler Corporation.
---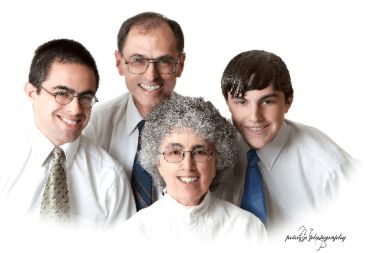 As his two sons grew up, they learned the business and certified with him and now we all clean as a family.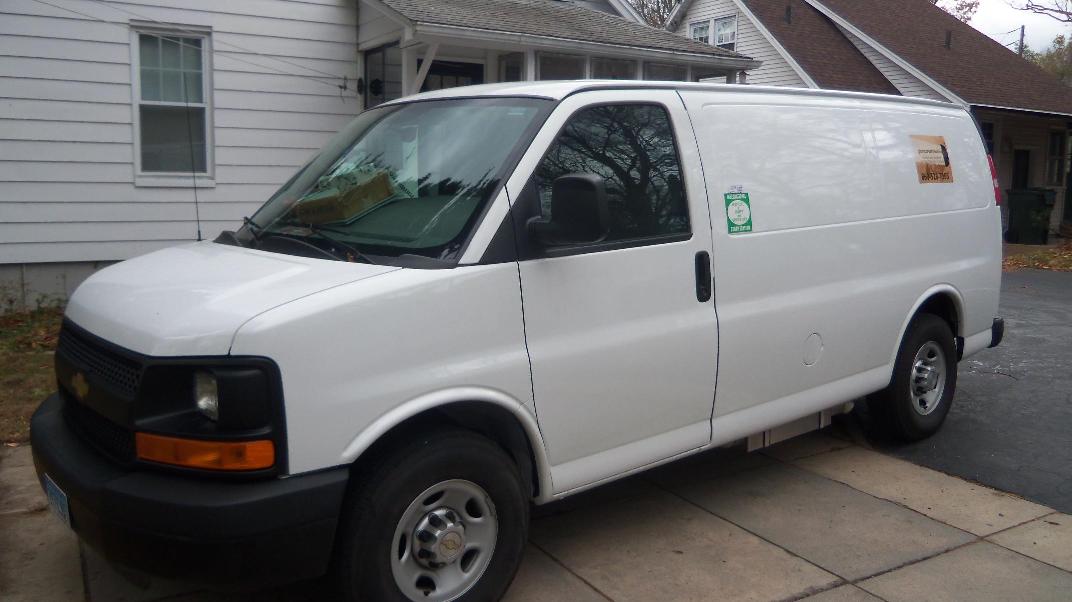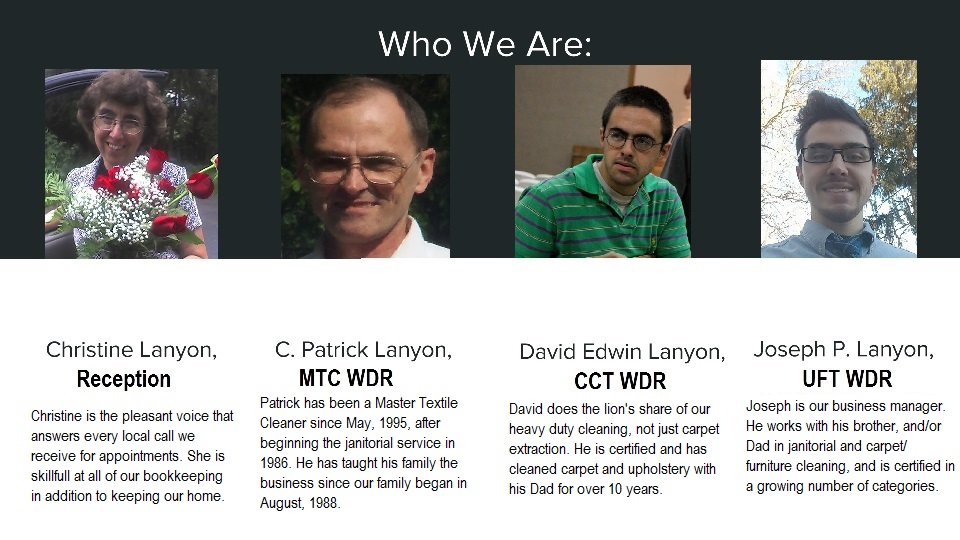 ---
30 Year Anniversary of "FULL-TIME" Business Is On October 19, 2017.