Patrick
C. Pat Lanyon
Glory Cleaning | GLORY Carpet Cleaning SERVICE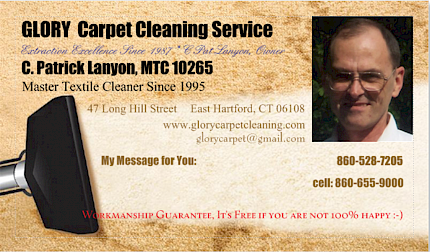 Hi friends,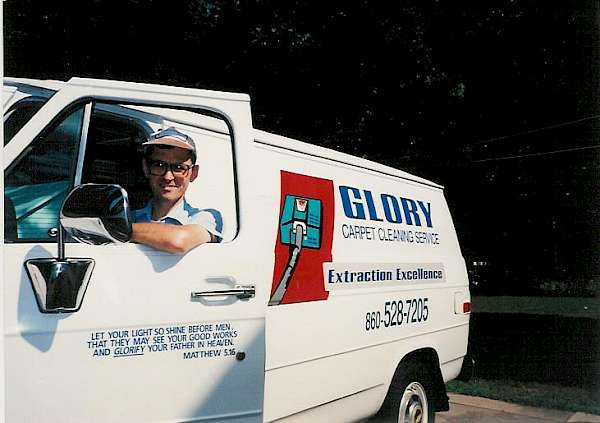 Thanks for visiting our website. I began Carpet Cleaning in a college office cleaning job while in Chattanooga studying in a seminary for my English Bible Degree. They had a Windsor "Dominator" Extractor I was permitted to use, just like the one I still have today that had a "window" in it's wand.
Was that fascinating to me to watch the soil come up from the carpet! It made an impression on me in 1978 on that job that I never forgot. So when I began a janitorial business in 1986, I thought about that machine and found one to rent and then buy. We'll still use it when called upon to clean above 5th floor where you just can't drive a truck! We also have the "Steamin' Demon" but even it is not as light and just flexible as this Windsor antique! ;)
Then, in 1991 when I began looking into training for 'stain-resistant carpet cleaning,' it was no surprise to find me fitting for high pressure the same wand for the truck mount shown above in 1994. That truck lasted for 18 years for us and we've replaced it with a 2012 unit recently.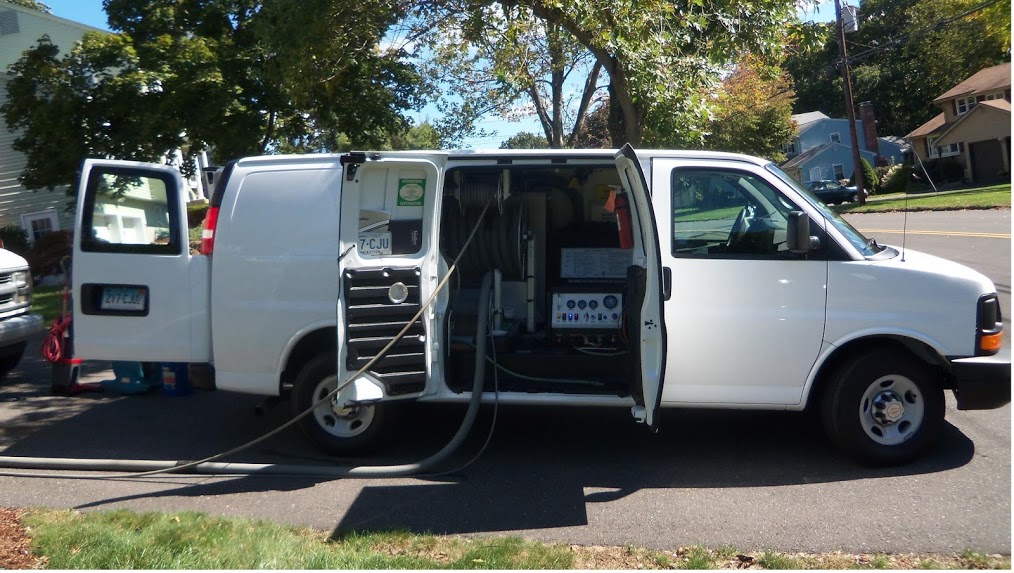 I have very much enjoyed working in association with the IICRC from 1991 until 2019, when retirement priorities took over. It has been fulfilling as a technician to learn with them.
And this is my "Master Textile Cleaner" Certification earned after 3 years of Journeyman Cleaning and Letters of recommendation for this position.
I have a unique family life testimony I've put online here. 
I am a crazy guy who LOVES to CLEAN, because of the great satisfaction it gives me.
While cleaning carpets I honestly get more satisfaction watching the window of my cleaning wand as one would do these days watching Television!
Thanks for taking some time to visit around our website. I am specially grateful to Mr. Jay "vanAch" for hosting it for us. It has take a lot of tweaking to update from our old site, but we have also added new features not previously available, including website slide shows, and encryption. Solution Innovators, LLC has been a God-sent fit for us at this time for which we are very grateful!

For 17 years our original hosting company GAVE me, literally, for free a business website, whose URL domain value I saw some places exceeded $3000! They provided over 99% up-time for our 200 MB site from 1999-2017! At the cheap-for-now monthly cost of $10/mo that amounts to over $2,000 given to us all those years, and no real down time to mention!
Since our information and minimal size requirement for text with low resolution pictures was all we needed, it was a great fit for us all those years.
---
Please feel free to give us your comments sometime through our contact form. We'd love to hear from you!
Some Prosperity Wisdom, is here!