tolls
CT TOLLS LEGISLATION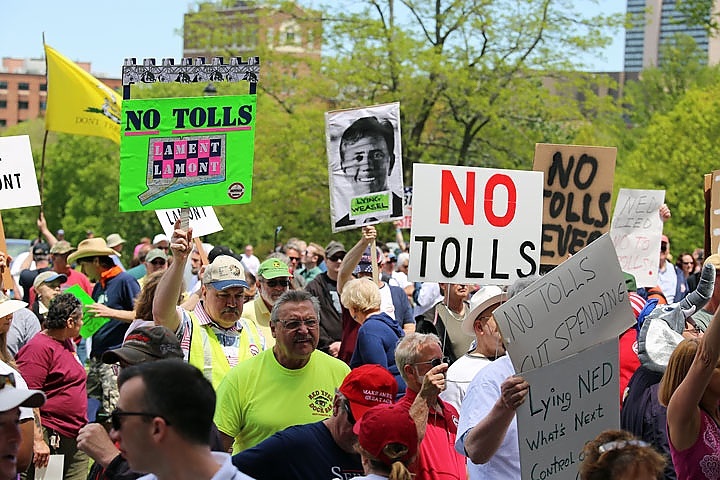 Needless for us to say this, but tolls in CT will affect drastically our costs in delivering service to your home or office. Small businesses such as ours who provide valuable services to the residents of our state WILL be crippled and already many residents have chosen to reside outside, if not even permanently move out, of the state. And cleaning services such as ourselves have records that measure that literally.
Please note that, although we oppose vehemently enacting such tolls, this is not because we are unwilling to pay for the qualified use of our roads, and the upkeep of the same. 
But when we, as taxpayers such as we are in CT, read articles such as the following,
we declare: "Restore funds stolen from those like the State Transportation Special Fund,
which have not been used as intended before you expect more funds in the future!" 
https://www.courant.com/opinion/op-ed/hc-op-herbst-tolls-0227-20190227-cbsqtb56mjdudafrpmgx6frb24-story.html
Recently I attended the NO TOLLS CT Rally on the steps of the capitol Saturday May 18, 2019. I learned a lot of what is going on behind the scenes in the CT state house and various cities, etc.

Earlier this year there were local meetings of residents in various towns in CT culminating with the rally.
The Capitol Rally was on the North steps to the Capitol in Hartford on Saturday, May 18 – opposing lawmakers seeking to enact legislation returning tolling to CT Interstates and 2 other divided highway connecting roads.
Below is to our State Senator my correspondence letter and other info about the Tolling Proposition in CT FYI.

I sent it to my CT Senator today, May 23, 2019:
As a business owner and resident of East Hartford serving Commercial and Residential clients over 25 years now, and commuting many miles over CT State and Federal Roads in 35+ years of residency in CT, I am strongly opposed to enacting any tolls in CT as a solution to the Roads and Infrastructure of CT. Please dot not support enactment of this bill.
I have done reading, for example, such as the Hartford Courant article:
HTTPS://WWW.COURANT.COM/OPINION/OP-ED/HC-OP-HERBST-TOLLS-0227-20190227-CBSQTB56MJDUDAFRPMGX6FRB24-STORY.HTML
that indicates the State's Special Transportation Fund has not been used as purposed, and the writer calls for "a full, forensic audit of the Special Transportation Fund."
If our lawmakers create such tax proposals and then see to it they are NOT used as proposed, how are WE THE PEOPLE to believe a new bill creating tolls on those roads will not be treated at some future time the same way?
I have a suggestion in lieu of this bill: Create a Donor's Fund for all legislative representatives of the state of CT to voluntarily pay into such a fund AS AN EXAMPLE.
The Fund could accept donations from anyone (a www.gofundme.com, for example) to fund the need.
I would be willing to buy cold patch and fill potholes on my street-side to literally repair the road myself.
I can say that if the cost of my business increases substantially in this state because of this tolling,
I will not be able or willing to continue it's existence locally
since I historically receive rightful resistance on many jobs I have done
because of the already high cost of my services to operate in this state.
Thank you for taking this matter very seriously and please consider putting forward some legislation that enacts the aforementioned audit.
Sincerely,
C. Patrick Lanyon, Owner, Glory Carpet Cleaning Service

Sign the petition at: www.notollsCT.org  There are over 100,000 signatures! 

Legislative Session closes: on or within days of June 5.