IT TRUST CLUB
We CLEAN Computers Too!
---
David is our Resident IT Pro.
And He LOVES to work on computers, TVs and Audio and their setups;
XBOX, PlayStation, Cell and Smart Phone Technology. And more!
Oh, as you might guess, There is a LOT of DUST inside these electronics,
but that's only where we start.  The real beasts have many, many names:
viruses,
trojans,
root kits,
spyware,
malware,
fake-ware,
bloatware,
beacons,
spammers,
hackers,
phishing,
fraud,
ransomware,
PUPs (Potentially-Unwanted-Programs)
… It really is unending.
We'd like to help you, for we know that computers, cell phones and
tablet devices are here to stay and will get more and more sophisticated.
Don't get under the learning curve. Get advised, join us in our IT Trust Club:
IT Trust Club & Tutoring available! Learn how to use your computer,
and make it run quickly, and keep it CLEAN!
---
Suggested TERMS:
Trust your computer issues with us. One time introductory fee of $150
enters you into our TECHNICIAN support club.
Club offer: $150.00 + CT tax enrolls you into
1) One Orientation Session,
our "First Visit," for up to 90 minutes* instructions and orientation;
2)a Second (up to 90 minutes*) visit for "Follow-up" Support, especially for new questions, which we know will be generated by our first visit!;
3)a year of phone/text support (limit 1 call per month of up to 5 minutes* each call. )
* – We reserve the right  to charge for "over-time" stipulation with rates based upon our
printed chart on back of each business card and as below.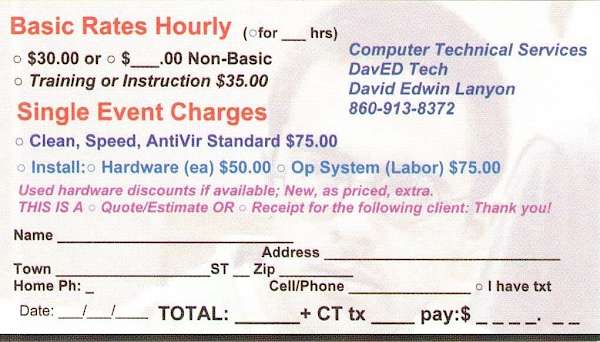 Call David today, HE LOVES TO GET CALLS 
AND TO HELP YOU ANY WAY HE CAN and
he will explain what he is ready to do for you.
860-528-7205, Home Office
860-913-8372, Cell with Messaging
---
David can make up a custom computer for a very low cost to you
due to our extensive stock of recycled computers and parts.
He can also customize a brand new one made to your specs.
---
We have brought computers and laptops in a local nursing home
to similarly train folks who want to stay up to date.
---
If you'd be interested in learning more, just call or send a text to 860-913-8372 OR just use our Business Contact Page.
BE SURE TO INCLUDE YOUR DEVICE, SYSTEM, AND ISSUE
WITH YOUR NAME, ADDRESS, AND PHONE.
---
David has experience in these Operating Systems:
Windows 10 | Windows 8, 8.1 | Windows 7 | Vista | Windows XP | Win 2000

Gaming Devices, Including XBOX,

Android Computers, Tablets, and Phones

Macintosh and Apple Computers, Tablets, and Phones.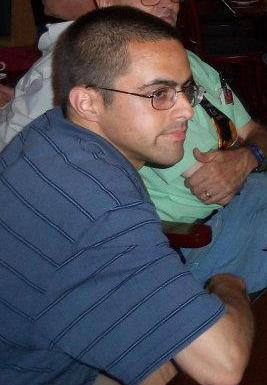 David watching a Dinner celebration in honor of his parent's 25th anniversary.